Thursday 12/3/20
Important news! We will be CLOSED for the day on Saturday, December 5, 2020. There are heavy rains and wind in the forecast and we need to protect our staff and preserve our parking lots. We will be open from 9:00 to 4:00 today (Thursday), Friday, and Sunday as well as the following Thursday-Sunday. We still have plenty of beautiful trees out there, primarily 6 feet tall and under.
Come on over today, tomorrow, or Sunday for a wreath and a tree! Merry Christmas!
---
Sunday 11/29/20
Please be aware our tree inventory is now 6 feet and smaller. Did you know if takes about 9-10 years (maybe longer) to grow a 8-9 foot Christmas tree? There is a huge demand for Christmas trees so our taller trees go fast. Please come to the farm willing to hunt for your tree and have an open mind!
---
11/23/20
This year we are doing a text check-in for everyone arriving at the farm.
What does that mean?
It means when you reach our driveway at the farm, you will see signs with instructions about a number to send a text message to. You will receive a message back that will direct you to our website with all of the information you need to know before you head out to cut your tree.

Why?
The aim of this text check-in is to decrease our foot traffic at our selling stations, and lessen the amount of information we need to convey to you through our masks. As long as you do not have any questions, you are all set to grab a saw and head straight out to cut your tree after you do our online check-in. You only need to see us afterwards to pay for your tree.
Do I have to do it?
We ask that you please give the text check-in a try. If you have any trouble or if you have questions you are welcome to come see us at the gazebo (our west side) or the red shed (our east side). This is our effort to make this year's tree cutting process as easy as possible for our customers and our staff.
Do I have to have an appointment or reservation to cut a tree?
No, you do not. You simply come to the farm during our open hours, Thursday-Sunday 9:00am to 4:00pm, do our text check in and head out to find and cut your tree!
Can I check-in early?
Yes! You are welcome to read through our check-in information page now . Once you have thoroughly read the information you can consider yourself/your family "checked-in" and you can head straight out to cut your tree when you arrive.
Does everyone in my car need to check-in?
No, only one person in your party needs to check-in.
If you have any questions, reach out to us at tonryfarm@gmail.com!
---
10/21/2020
We are looking forward to opening the day after Thanksgiving! We have several key protocols we have put into place for our tree season this year due to COVID-19. Please note, you do not need to pre-register or have an appointment time to cut a tree.
TONRY FARM COVID-19 PLAN
All farm visitors are required to wear face coverings.
We will provide hand sanitation stations at convenient locations for employees and customers, and will sanitize high-touch areas.
We will ensure that all persons, including employees and customers remain at least six feet apart to the greatest extent possible.
Unfortunately, we will not be serving any food or beverages at the farm this year. To keep space in our parking lots and protect the safety of all customers, we will not be allowing tailgating.
We will be offering a text message check-in service to better control the flow of traffic at the farm and provide our customers all the information they need to have the best Christmas tree cutting experience possible! This means that you will get all of our information virtually before you head out to cut your tree, by following directions on signs on our driveway. This does not mean that you need to make an appointment.
---
9/22/2020
Today is the first day of fall! We are excited for the season and looking forward to Thanksgiving and Christmas.
The Tonry Farm will be open as usual for the 2020 season, with added COVID-19 precautions. We will open the day after Thanksgiving, Friday, November 27th and we will be open every Thursday-Sunday from 9:00 to 4:00 until Christmas. We do not offer any tree tagging.
Please be sure to check our Facebook page or website before your visit so you can be aware of our updates.
We have a great inventory of beautiful fraser firs, balsam firs, concolor firs and white spruces this year. Our trees (any size) are still $65, cash or check only. Due to COVID-19 we will not be selling any food or beverages at the farm this year.
We look forward to seeing (from a distance) you and your family at the Tonry Tree Farm this year!
Tuesday 12/15/20
Due to forecasted snow we will be CLOSED for the day on Thursday, 12/17/20. If you are planning to come on Friday, please check our Facebook or call our phone line (603-772-6213) before you come as we may need some time to open up our parking lots.
We will be open for the last days of our 2020 tree cutting season on Saturday 12/19 and Sunday 12/20 from 9:00 to 4:00. We still have many trees 5 feet and under.
Thank you to all who have come already to get a tree! We hope you are enjoying it!
---
Tuesday 12/8/20
Seasons greetings! Our tree inventory is now primarily 5 feet and under. You *may* be able to find taller trees out there, but those are what sell first so we can't guarantee anything.
Right now we are planning to be open Thursday through Sunday 9:00 to 4:00. The forecast looks a bit varied for the weekend, stay tuned on our website and facebook incase we close for the day on Saturday or Sunday.
Merry Christmas!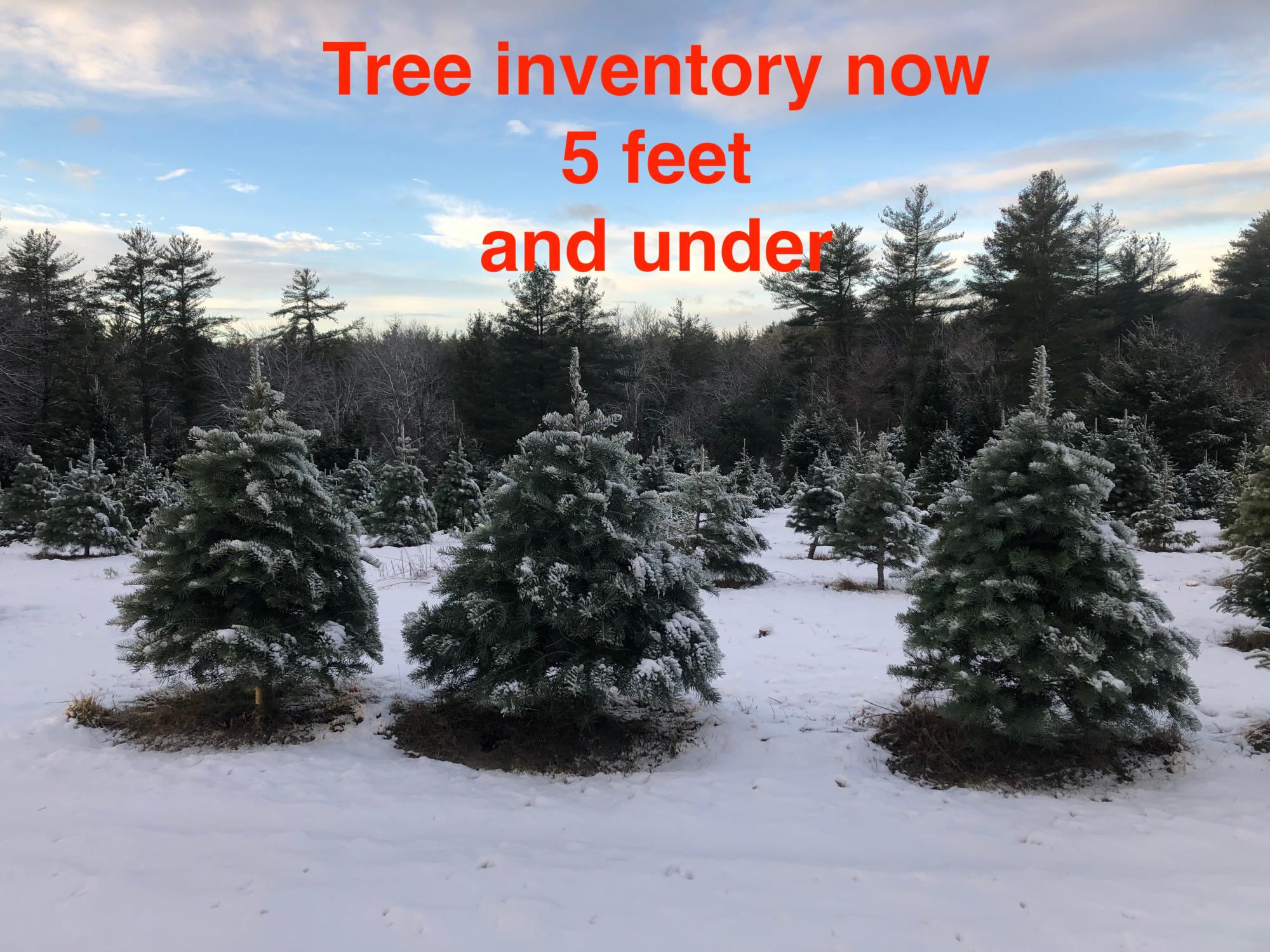 Monday 12/21/20
We are now CLOSED for the 2020 tree cutting season. Thank you to everyone who visited the farm this year! See you in 2021.
---
Friday 12/18/20
Hi everyone! We hope you had a fun and restful snow day. We will be OPEN for the last few days of our season today (Friday) from 11-4, tomorrow (Saturday) and Sunday from 9-4.
If you are planning to visit today, please try to come after 11:00am so we have a little bit of extra time to clean our roadways up for you.
If you are coming any day today/this weekend, please bring the following things:
--Snow boots
--Warm winter gloves, winter clothing
--A shovel
--A tape measure
We got about 8-10 inches of snow yesterday so our trees are buried! It's hard to tell how tall trees are in this kind of snow, so we recommend you bring a tape measure to help you find your perfect tree.
We still have many trees available for you to cut, though they are mainly 5 feet tall and smaller. If you have any questions comment below or send us a message. Merry Christmas!