Welcome to the Tonry Farm!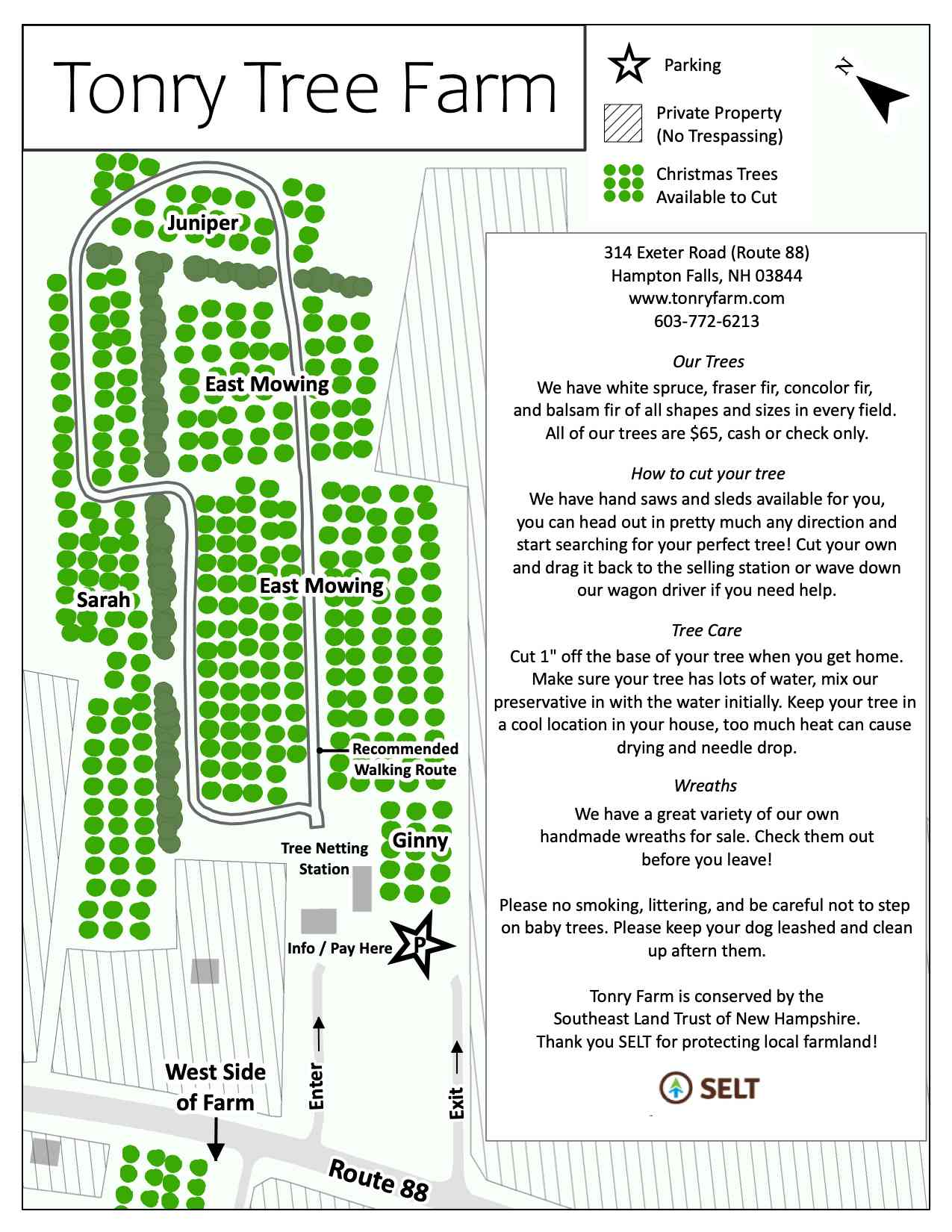 This year, we are offering this page to serve as your check-in, after reading this you will be all set to grab a saw and head out to cut your tree, and pay us afterwards in the green barn.
If you have any questions once you read this page, you are welcome to come see us.
There are a few things we want you to know before you head out to cut your tree
COVID Protocols
Masks are required at the farm.
Keep 6 feet distance with other parties and employees.
If you feel ill or have been in contact with someone with COVID, please come back another day.
Unfortunately, we do not have any food for sale at the farm this year, and we cannot allow tailgating.
🌲🌲🌲
2. Our trees are now primarily 5 feet and under. All of our trees are cut your own, you will find different shapes and varieties in every field. We have white spruce, concolor fir, balsam fir, and fraser fir. If you want to know more about the varieties of trees we offer, please see the "Our Trees" page. There is no one field we can direct you to for taller trees or a particular variety, they are all over the farm.
Once you are done reading our check-in page, you should pick up a saw and a sled, and head out on a nice walk to search for your tree. If you need directions, please see our map below.
🌲🌲🌲
3. All of our trees are the same price! They are all $65 dollars, we take CASH or CHECK only. You will pay for your tree AFTER you cut it. You will receive a paid receipt to display in your windshield on the way out.
🌲🌲🌲
4. As long as your tree isn't too wide, we can net it for you for one dollar. If you would like your tree netted, please bring it over to the selling station or tell the wagon driver.
🌲🌲🌲
5. We have our own beautiful, handmade wreaths for sale. You can browse these in the green barn once you are done cutting your tree.
🌲🌲🌲
6. Please, no chainsaws allowed. If you need help with cutting your tree you can flag down our wagon driver or come see us at the selling station
So, you have carefully read this page, and you are officially "checked-in". If you DON'T have questions you can head out to cut your tree, and see us to pay for it afterwards. If you DO have questions, come see us in the green barn.
Thank you so much for your support of the Tonry Farm. We have been here for 56 years, and we LOVE seeing families build and continue holiday traditions at our farm. We wish you and your family a happy, healthy, and bright 2020 Christmas, and we look forward to seeing you again next year.