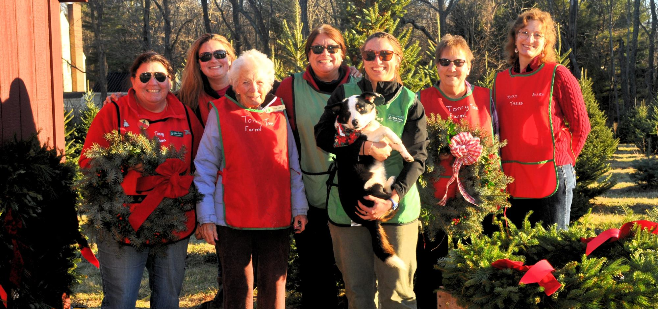 Herb and Alice Landis Tonry moved with their 6 children to Hampton Falls in 1964. They started planting Christmas Trees as a 4-H project, but as the years went by and their kids left home Herb & Alice took over all the day to day operations only relying on their kids for help during the tree selling season. Herb died in 1990 and Abby Tonry took over the operation from her father and along with her mother Alice Landis Tonry and they ran the farm together until 2016.
In July 2007, Alice Landis Tonry put her land in a conservation easement with Southeast Land Trust, meaning it will never be developed and will continue to be farmed. This land and farm has been a part of the seacost New Hampshire community for over 50 years and that will continue thanks to her forward thinking.
In July 2016, at the age of 94 Alice Landis Tonry passed away peacefully at home on the farm. Until her dying day Alice lovingly mowed and tended to her trees and took joy from seeing children and families visit her land. Her full obituary can be found here.
Today, the farm continues within the Tonry family under the leadership of Abby Tonry, Alice Day Tonry, Alice's husband Chris Grant, Jessie Tonry, her husband Pete King, and their daughter (our 4th generation tree farmer), Ellie Tonry King. They couldn't run the farm without the help of other family members Kate Day, Landis Rogers, Ellen Miller, Louie Tonry, Cindy Tonry, and many others.