What types of trees do we have?
All of our fields are inter-planted, so you'll find different sizes and varieties in every direction. See our helpful guide below to learn about our varieties of trees.
All of our trees are $75, we accept cash or checks.
What size trees do we have? Our inventory is primarily 5 foot concolor fir trees. Taller trees may be out there in our fields, so if you are looking for a taller tree and you have the time and energy you can take a look but we can't guarantee you'll find larger trees.
Sorry, we do not do any wholesale of trees or wreaths.
FRASER FIR: The Fraser fir branches turn slightly upward. They have good form and needle-retention. Fraser firs are native to high elevations of the Appalachian Mountains of North Carolina, Virginia and Tennessee. Fraser firs continue to increase in popularity for good reason. Fraser firs have blue-green needles with silvery undersides. The branches are stiff and hold up well to ornaments. The trees have a pleasant scent and needle retention is excellent.
CONCOLOR FIR: Concolor fir (sometimes known as white fir) has a stately and symmetrical form and holds ornaments well. Needles are typically blue-green and, in some cases, can be a dramatic powder blue. The needles of concolor fir are longer than most other firs commonly grown for Christmas trees, giving trees a coarser appearance. Concolor needles have a unique and pleasant scent that is usually described as citrusy or orange-like.
BALSAM FIR: Balsam fir has been a traditional Christmas tree choice for generations. Its popularity may be based on its strong Christmas tree scent; it is among the most fragrant of all species of Christmas trees. Balsam fir has relatively short, dark green needles and excellent form making it a good choice for displaying ornaments.
WHITE SPRUCE: The white spruce is excellent for ornaments; its short, stiff needles are ½ to ¾ in. long, have a blunt tip, and are bluish-green – green in color. They have excellent foliage color and have a good, natural shape. The needle retention is better in a white spruce than it is among other spruces.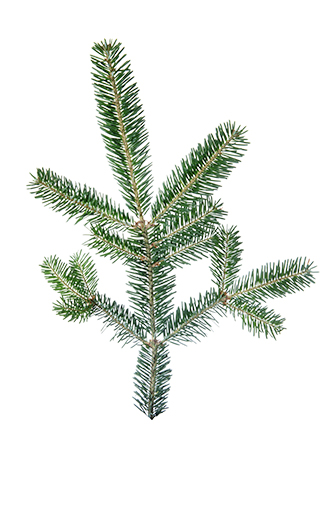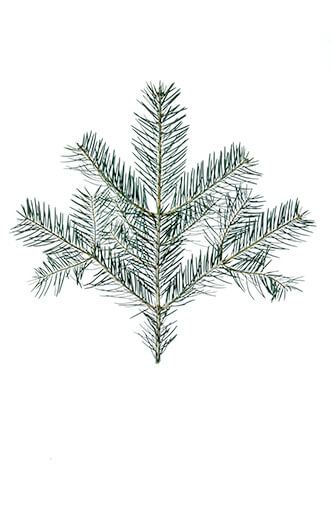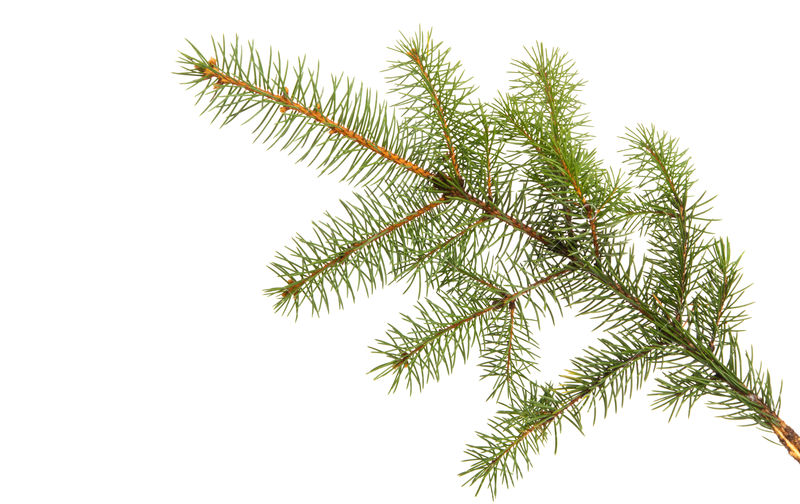 TREE CARE
When a Christmas tree is cut, more than half its weight is water. With proper care, you can maintain the quality of your tree. Below are a number of tips on caring for your tree:
Displaying trees in water in a traditional reservoir type stand is the most effective way of maintaining their freshness and minimizing needle loss problems.
To display the trees indoors, use a stand with an adequate water holding capacity for the tree. As a general rule, stands should provide 1 quart of water per inch of stem diameter. Devices are available that help maintain a constant water level in the stand.
Use a stand that fits your tree. Avoid whittling the sides of the trunk down to fit a stand. The outer layers of wood are the most efficient in taking up water and should not be removed.
Make a fresh cut to remove about a 1/2-inch thick disk of wood from the base of the trunk before putting the tree in the stand. Make the cut perpendicular to the stem axis.
Don't cut the trunk at an angle, or into a v-shape, which makes it far more difficult to hold the tree in the stand and also reduces the amount of water available to the tree.
Drilling a hole in the base of the trunk does NOT improve water uptake.
Once home, place the tree in water as soon as possible. Most species can go 6 to 8 hours after cutting the trunk and still take up water. Don't bruise the cut surface or get it dirty. If needed, trees can be temporarily stored for several days in a cool location. Place the freshly cut trunk in a bucket that is kept full of water.
The temperature of the water used to fill the stand is not important and does not affect water uptake.
Check the stand daily to make sure that the level of water does not go below the base of the tree. With many stands, there can still be water in the stand even though the base of the tree is no longer submerged in water.
Keep trees away from major sources of heat (fireplaces, heaters, heat vents, direct sunlight). Lowering the room temperature will slow the drying process, resulting in less water consumption each day.
Use of lights that produce low heat, such as miniature lights, will reduce drying of the tree.
Always inspect light sets prior to placing them on the tree. If worn, replace with a new set.
Do not overload electrical circuits.
Always turn off the tree lights when leaving the house or when going to bed.
Monitor the tree for freshness. After Christmas or if the tree is very dry, remove it from the house.
Never burn any part of a Christmas tree in a wood stove or fireplace.

Tree care overview prepared by Dr. Gary Chastagner and Dr. Eric Hinesley; edited by the National Christmas Tree Association. Photos of tree varieties provided by the National Christmas Tree Promotion Board.